Area Code 973, 862, 201, and 551
phone numbers - New Jersey
Area codes in every part of New Jersey
Request A Free Quote
The area codes for New Jersey include 973, 862, 201, 551, 732, 908, 856, 609, and 606.
We have partnered with all the biggest telecommunications companies across the US, including Nextiva, to provide you with the best service possible. Whether you need a business phone system, internet, or a New Jersey phone number, we can provide it for you.
New Jersey is one of the oldest states in the country and there are plenty of benefits to living here. The proximity to New York City, the beach, Atlantic City, an array of job opportunities, great sports teams like the New Jersey Devils, and more! There are nine New Jersey area codes including 973, 862, 201, 551, 732, 908, 856, 609, and 606. The state as a whole has almost nine million people with Newark being the most populous city. New Jersey clearly has a lot going on, especially when it comes to business.
We're here to help you with your New Jersey phone number and internet needs. Not only do we provide New Jersey phone numbers and area codes, but we also provide businesses with business phone systems, SD-WAN, Cloud PBX, New Jersey phone numbers, and area codes.
We're based in Long Branch, NJ and serve the entire state. Heck, we also serve other nearby areas including New York City and Philadelphia. We're located just off of highway-36 right next to Dunkin Donuts in West Long Branch. If you live in the area, stop on by our office! If not, we're happy to speak with you over the phone or online.
Get Quick Quote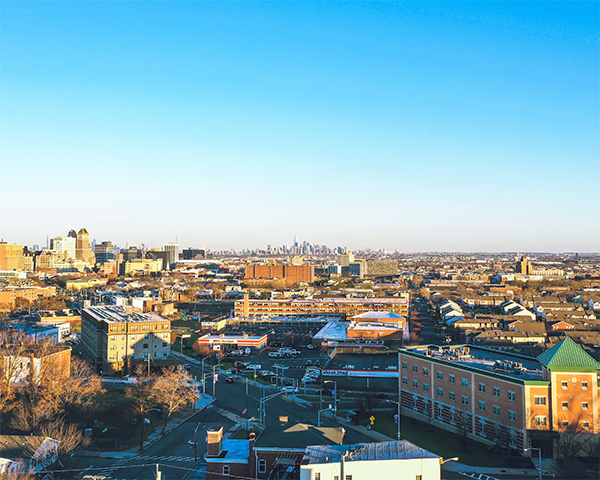 Why We Love New Jersey
New Jersey is a great place to live and do business. With a population of more than 8 million and a close proximity to New York, it's easy to see why. Plus, with its gorgeous beaches and plentiful greenery, there are lots of reasons to love New Jersey. But we mainly love it because there's so much business opportunity. This is one of the reasons so many people, maybe including yourself, search for New Jersey area codes and phone numbers.
Choosing the right business phone and integrated telecommunications company to work with for your business can be a tough decision. We get it.
We're one of the top telecom companies in New Jersey and we have the reviews to prove it. Why? Because we believe in providing your business with the best internet and business phone services possible. Then we back it all up with responsiveness. Whether you're a start-up or a business that's been serving New Jersey for over 50 years, we've worked with your type of business before. That means we can provide you with the New Jersey area codes and phone numbers you need.
How can you know if a VoIP company in New Jersey is right for you?
Do they have experience with what you need?
Does the company have good reviews on Google?
What carriers do they work with?
Do they provide you round the clock customer service?
Why Choose Us For Your New Jersey Phone Number Needs?
Local Business Presence. A New Jersey phone number can be accessed and operated from anywhere in the world.
Instant Activation. Getting started is easy. Simply choose your business number and setup where you want your calls directed and you're set!
No special equipment is ever required, helping you get started and focused on doing what your business does business best.
No hidden fees. We make pricing and billing straightforward and easy to understand.
You get powerful standard PBX features including voicemail, call forwarding, and multiple extensions are all included with our VoIP, phone, and internet services.
Flexibility. Our New Jersey phone number and area code plans allow you to upgrade or downgrade at your convenience based on the needs of your business.
More Reasons to Get Your New Jersey Area Codes and Phone Numbers From Us
Whatever the size of your company, you can benefit from the latest technology in business phone numbers and internet systems. There is vast business growth in New Jersey area codes 973, 862, and 201. We can offer a variety of telecom features to help your business explode in New Jersey and these areas in particular. There are countless advantages to implementing technological advances when it comes to the digital phone from wherever you're at in the US. Your phone expenses can stay the same while we give you access to the latest Cloud PBX features. You'll get voicemail, call forwarding, and multiple extensions, and more when you work with us.
We've partnered with all the major telecommunications companies, including Nextiva, to provide you with the best service possible. If we get your business, you'll get a unified platform that comes with New Jersey phone numbers, video conferencing, and customer management services all in one service and bill from us. The Nextiva VoIP system is very flexible and gives you the opportunity for simple yet powerful upgrades when the time comes for adjustment and expansion. You get the ability to work from anywhere, including at home or on foreign soil, or in the office. With access to quality, affordable services, there isn't any reason to fall short on quality communication inside or outside your company. It's also comforting to know that your business phone numbers have the ability to move with the activity of every member of your team.
Newark Area Codes
In addition to serving the entire state of New Jersey with area codes and phone numbers, we also do a great deal of work in Newark, specifically the 972 and 863 area codes. Getting a Newark area code can benefit any business that wants to grow throughout the state. If you choose to hire us, you instantly get VoIP service with whatever area code you require. You won't need to get any new phone equipment which makes it easier to get your new area code 973 up and running. You can access your Newark area code from a smartphone, tablet, or computer from wherever you are in the world.
With Newark being the largest city and metropolitan area in the state of New Jersey, chances are you'll be doing business there in some way. Whether you live in Newark or just do business there, we can help your business with all of your VoIP service needs.
We've got your back.
VoIP Packages and Benefits for New Jersey
But the benefits don't stop there. All of our VoIP packages come with state-of-the-art features on top of your area code 973. You'll also get call recording and an Auto Attendant that gets rid of the need for a receptionist. That can save you and your business a lot of money every year. Plus, calls from potential clients will be routed correctly every single time!
Your business will continue to grow over time, and as it does, our software will make it easy for you. We provide you with software that gives you everything you need in one spot. To make it even better, you can access it all no matter where you are in the world.
Another great benefit of using us for your Newark area code needs is our transparency in all that we do. There are no hidden fees or surprise bills when you work with us. We believe in being completely upfront about everything we're providing you with, what's included in each plan, and how much it's going to cost you. That's how we do things at Abadi Group.
Customer service is also crucial for helping your business thrive and grow. We provide you with a carrier that is available 24 hours a day, 7 days a week. We know that things happen and we won't pretend they don't. But we'll do everything we can to fix the problem as soon as it arises and prevent problems from happening in the first place. Stellar customer service is just one of the reasons we have a 5-star rating on Google.