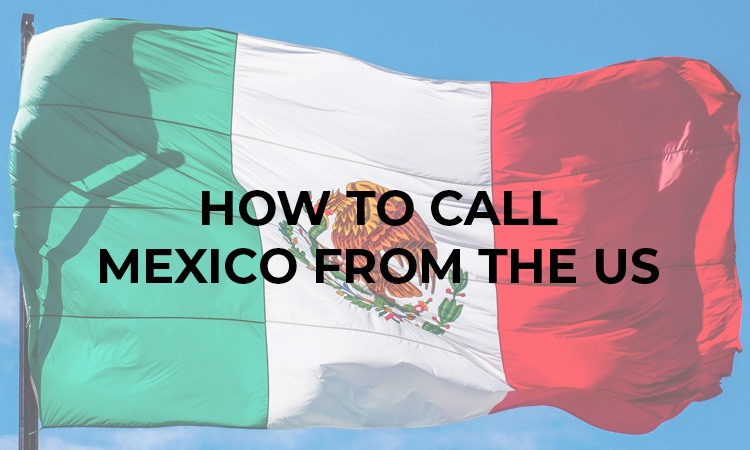 As frequently as business owners today need to contact Mexico, it's important to know how to call a Mexico number from the United States. Whether you're reaching out to clients, suppliers, or have family there, understanding the best way to call Mexico can stop you from spending an excessive and unnecessary amount of money on your phone bill. You could end up paying 2-3 times more for international calling without the appropriate telecom services. Successful business owners know the importance of saving money in any way possible. 
How much does it cost to call Mexico from the US? 
Whether you're calling from a cell phone or landline, international calls are downright expensive. For example, rates from a basic carrier can be as much as $3.50 per minute from landlines.You may be paying a monthly fee for your international calling plan and will still have to pay around 10 cents per minute to call Mexico from a landline or 24 cents from a U.S. mobile phone. 
These rates don't seem too bad if you're calling your Aunt in Mexico City twice a year. But if your situation finds you making dozens of calls to Mexico, you'll want to look for a more affordable solution.
Mexico Country Code 52 
Mexico's country code is 52 and will allow you to call Mexico from another country. Calling Mexico is simple. You just need to understand how to place an international call with the appropriate Mexican area code. There are a few things to consider when calling Mexico. 
Are you calling a Mexican landline or cell phone? Strangely enough, it costs more to call a cell phone in Mexico than a basic landline. 2. You should have an idea of how much the call will cost. 3. You'll need to know the area code of the place in Mexico you are hoping to reach. 

Make sure your phone is set up for international calls. You may have to contact your cell phone carrier to enable international calls if you're planning to call from your mobile device. If calling from an office landline, check with your administrators to ensure international calling is allowed.
Mexico Area Codes 
Mexico uses a wide range of area codes due to its large landmass. If you know where the person you are contacting lives, it should be easy to figure out which area code is accurate. Below is a list of all the area codes in Mexico: 
Location Area Code 
Acapulco 744 
Cabo San Lucas 624 
Cancun 998 
Cd. Juarez 656 
Cd. Oregon 644 
Cd. Valles 481 
Coatzacoalcos 921 
Cuernavaca 777 
Chetumal 983 
Chilpancingo 747 
Fresnillo 493 
Guadalupe Victoria 676 
Guanajuato 473 
Guaymas 622 
Huatabampo 647 
Isla Mujeres 998 
Jalapa 228 
Leon 477 
Maravatio 447 
Mazatlan 669 
Mexicali 686 
Minatitlan 922 
Monterrey 81 
Nuevo Laredo 867 
Orizaba 272 
Patzcuaro 434 
Pueblo 222 
Queretaro 442 
San Felipe 686
Tampico 833 
Taxco 762 
Tepic 311 
Texcoco 595 
Tlaxcala 246 
Torreon 871 
Tuxpan 783 
Valle de Bravo 726 
Veracruz City 229 
Villahermosa 993 
Zacatecas 492 
How to dial a cell phone in Mexico 
Calling Mexico from the United States is easy if you follow these simple steps: 
Dial the exit code 011.

This code alerts your carrier that you're calling outside the United States. 

Dial 52-the Mexican country code.

This number communicates to your carrier that you're calling Mexico 

Dial 1 after the area code if calling a Mexican cell phone 4. Remove Trunk code.

Trunk codes are used specifically for domestic calls depending on if you're calling a landline or cell phone. The codes are

01, 045, and 044. 
Dial the area code.

If you don't know the area code, refer to the list of area codes above. 

Enter the phone number.

The last step is to enter the phone number to allow you to complete your call to Mexico from the United States.
How to make a business call from the US to Mexico 
The process to make a business call to Mexico is very similar to making a personal call. However, business owners shouldn't be relying on their traditional business lines for frequent international calls as it's time-consuming and expensive. An easier and more affordable option is to start using a commercial phone service for international calling. Nextiva offers a business phone app that can be enabled for every employee in your company to use at their discretion and is straightforward and easy to use. This app is a cost-effective way to call internationally and is designed specifically for a call-center environment. 
When trying to manage a company, any tools that can help you simplify your business are a major bonus. Giving you basic control over all the call-center numbers that your company has, the business phone app makes it easier than ever to manage your company's calling policy.
How to enable international calls for your call center 
Start by visiting

Nextiva.com

Click the login button at the top of your screen and enter your username and password 

Under "Advanced Routing" click on "Call Center Locations" on the drop-down menu 

Click the "Log in" button next to the call center you want to enable international calling for. You should see a new window appear. 

Select "Calling Plan" on the new window and go to "Outgoing Calling Plan" under the Management section. 

Next, go to the Originating Tab and select the box under "International" to enable international calling. 

Select "Apply" to save the settings. And just like that, your call center is set up for international calls. 
Once you've enabled international calling, making a call anywhere in Mexico with the Nextiva app is the same as calling a standard phone number. 
Enter 011 to exit the United States 

Dial 52 to connect to Mexico 

Be sure to skip the 044 or 045 trunk number 

Enter the remaining phone number and initiate the call
How to call a landline in Mexico 
As long as you know the area code of the city you wish to reach, calling a landline in Mexico is simple. In the example below we will be calling a landline in Toluca where the area code is 722. 
Dial 011

which is the exit code 

Dial 52,

the Mexican country code 

Dial 722,

the area code for Toluca 

Dial 123-4567,

the landline phone number in Mexico
011-52-722-123-4567 
How to call the US from Mexico 
If you're in Mexico and want to call the United States, it's not a complicated process so no need to fret. 
Dial 00

-Mexico's exit code 

Dial 1

– the United States country code 

Enter the area code of the city you're calling 
Finish with the 7 digit phone number 
00-1-310-123-4567 
You can call a US landline or cell phone by following the steps above. If you'll be making frequent international calls from Mexico to the US on your cell, be sure to contact your carrier to set up the best available plan.
How can your company receive calls from Mexico? 
If your business will be receiving a lot of calls from Mexico, you'll want to be sure you have a phone plan setup that allows for international calls. Abadi Group offers the choice of several service providers and can assist you in enabling international calling in a more affordable way. 
Additionally, if you have an abundance of clients or customers in Mexico, it may be worth setting up a Mexican phone number for your business. Clients from Mexico much prefer calling a local number. They're more familiar with the process and it's cheaper. The best way to do this is through a commercial phone service plan. 
Alternate ways to call a Mexico number from the United States
If you have family or business in Mexico, you'll be making numerous calls back and forth. This can become extremely expensive. Even after paying a monthly fee to enable international calling, you may be looking at paying an additional charge per minute. You'll want to find some other ways to call and receive calls that are affordable options. 
Choose a VoIP plan that includes international calling. Well-known carriers such as Nextiva and Verizon will allow you to make international calls at a much lower rate. 
Purchase an international calling card.

You can find these cards offering rates as low as 2 cents per minute. The drawback to this option is that you can only make calls from a landline so you're much more limited in a world of constant cell phone use.

Apps like Zoom and Skype

offer free international video calls on their free monthly plan. Even though there are time limits set in conjunction with their free plans, if you're already paying for a business plan, you won't have those time restrictions. Skype also charges a very small amount for calls from your computer to a landline which makes it an affordable option when calling a Mexican number. 

WhatsApp

allows you to make free international phone calls. Keep in mind that the person you're calling also has to have a WhatsApp account. If you have an employee doing business for your company in Mexico or have family or close friends there, this may be an efficient way to communicate. 
Tips for calling Mexico 
When calling a different country, there are bound to be many social and cultural differences. Keeping good relations is important in business. Here are a few cultural tips that when practiced, show your respect for Mexican culture and people. 
Try to communicate by using some Spanish phrases. Don't worry if your Spanish isn't perfect. Putting forth the effort shows friendship and respect. Keep in mind to use proper titles such as Senor and Senorita instead of addressing them by their first name. 

In the U.S. we are always chasing the clock. Mexican culture is a bit more laid back. So, don't be offended if your contact shows up a little late for a business call. 

Send reminders leading up to a call. 

If you leave a voicemail, you are expected to follow it up with another call. They don't see it as a game of tag like we can tend to do. 

In Mexico, using a raised voice shows interest and engagement in your conversation. Don't be offended, but see it as a sign of enthusiasm. 
Conclusion on How to Call Mexico From the US 
If you'd like assistance finding the most cost-effective international calling plan for your personal or business use, contact Abadi Group. We compare over 150 voice and data service carriers nationwide. With our exclusive access to wholesale pricing and promotions, we can set you up with an internet service that gives you the best possible service at the best possible price. Click here to get a free quote.