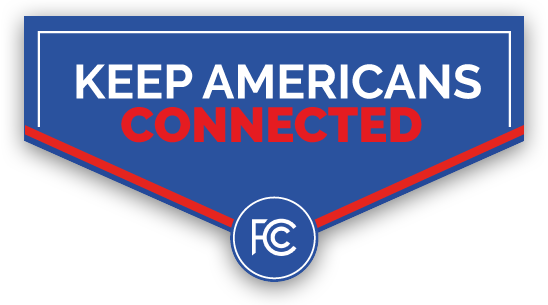 Keep Americans Connected Pledge
In response to the COVID-19 pandemic, and the challenges that many Americans will face in the coming months, FCC Chairman Ajit Pai recently announced the Keep Americans Connected Initiative. In order to ensure that Americans do not lose their broadband or telephone connectivity as a result of these exceptional circumstances, he specifically asked broadband and telephone service providers, and trade associations, to take the Keep Americans Connected Pledge. So far, more than sort by650 companies and associations have signed the Chairman's pledge to Keep Americans Connected.
The Keep Americans Connected Pledge reads as follows:
Given the coronavirus pandemic and its impact on American society, [[Company Name]] pledges for the next 60 days to:
not terminate service to any residential or small business customers because of their inability to pay their bills due to the disruptions caused by the coronavirus pandemic;
waive any late fees that any residential or small business customers incur because of their economic circumstances related to the coronavirus pandemic; and
open its Wi-Fi hotspots to any American who needs them.
Chairman Pai has also urged companies with low-income broadband programs to expand and improve them and those without them to adopt such programs. He called on broadband providers to relax their data usage limits in appropriate circumstances and take steps to promote remote learning and telehealth. See the list of companies going above & beyond and additional steps they are taking.
More Ways the FCC is Keeping Americans Connected
Learn more about additional FCC efforts to address COVID-19 at fcc.gov/coronavirus.