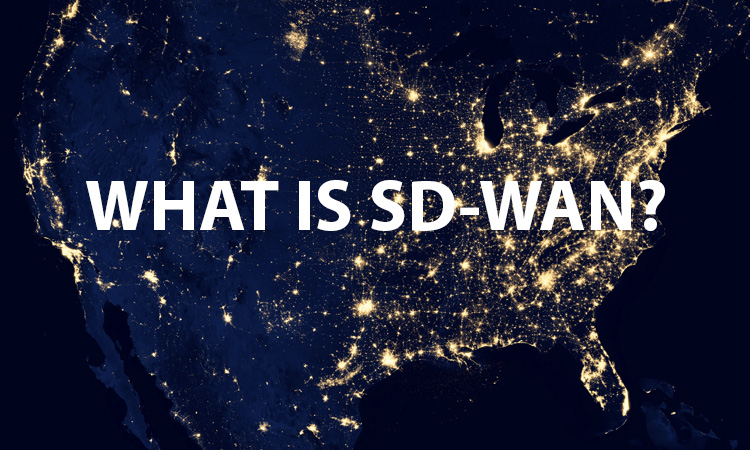 SD-WAN is playing an increasingly important role in enabling large and growing enterprises to access the performance, agility, and cost benefits of next-generation cloud services while still delivering business application availability. Across the board, organizations are embarking on new strategic initiatives designed to take advantage of SD-WAN's benefits. For many companies, embracing some form of SD-WAN solution provides a unique opportunity to resolve complex network issues and improve network capacity and efficiency while reducing costs. However, despite its far-reaching capabilities for organizations, SD-WAN is still a black box for many enterprises.
This post covers a range of topics to provide you with a basic understanding of SD-WAN, how it works, why you should use it, its benefits, and how it stacks up against other networking technologies.
By the end, you will have a greater understanding of SD-WAN and a better idea of how to implement it into your business environment.
Let's get started. 
What is SD-WAN?
Software-Defined Wide-Area-Network, alternately referred to as SD-WAN, is a virtualized WAN-based architecture service that connects and extends enterprise networks over large geographical distances.
It's a logical extension of SDN technology. It provides enterprises with an improved way to manage their existing infrastructure while capitalizing on new revenue streams through network service automation, SD-WAN software management, and Carrier Ethernet services.
SD-WAN leverages software-defined policies tailored on business intent to WAN connections to facilitate secure WAN management across a centralized interface or function and strategic and efficient traffic direction across organizational WAN.
Using SD-WAN, organizations can utilize the various network transport services such as MPLS, LTE, VPNs, internet broadband services, etc., to securely connect users to applications or services even remotely.
Simply put, SD-WAN is an evolution of traditional WAN, offering more agile networking solutions for companies at reasonable costs. 
A Brief History
Technologies are birthed from the need to resolve challenges that consistently hinder us from progression. The birth and rise of SD-WAN is no different, stemming from the need to adapt WAN infrastructures to meet the volatile business environment while lowering operational costs.
Back in the 1980s, organizations relied on point-to-point systems (PPP) for networking. While PPP addressed most networking issues then, it relied on leased lines and proved expensive for many enterprises. In a quest to lower costs and physical connections, Frame Relay service -a connection-oriented networking was introduced in the early 1990s as a better option to PPP. 
Frame Relay was well received with rapid industry adoption given its reasonable costs and last-mile link bandwidth sharing capabilities even across multiple remote connections. However, its dominance was short-lived with the advent of MLPS- a connectionless protocol that addressed and surpassed what its earlier networking counterparts could offer. MPLS adoption also rapidly grew owing to its reliability with SLAs that guaranteed latency, packet delivery, and availability.
That was until the birth of SD-WAN in early 2013 at an ONUG Conference. Specifically, SD-WAN was designed to resolve the shortcomings of earlier networking solutions- to address the surging bandwidth requirements and restricted network budgets while assuring quality.
SD-WAN debuted with version 1.0 which was fixated on addressing availability issues and last-mile connections. It then evolved in the ensuing years through versions focused on improved performance, virtualization, and application-aware routing. Its present-day version 3.0 is rooted in expanding past networking branch locations and secure cloud connections.
How Does SD-WAN Work?
We'll walk you through how SD-WAN technology works and its various architectures to get a deeper understanding.
Unlike traditional WANs that rely on network admin policies and physical routers to connect in-house users or remote to applications hosted on data centers, SD-WAN isolates the control and management processes from the underlying network hardware. This ensures that both control and management can be software-defined (programmed with several software processes) for easy configuration and deployment. 
What's more, a centralized interface means network admins can write new rules and policies and instantaneously configure and deploy them across an entire network.
Primarily, SD-WAN is built on a basic structure with these main components:
The SD-WAN Edge

—

encompasses where the network endpoints reside, including local offices, remote data centers, or cloud platforms.

The Centralized control — centralized network management that presents network data from multiple sources in a unified display. It facilitates a single pane of glass monitoring where network operators can manage the network and set policies or protocols for execution.

Dynamic path selection — the SD-WAN virtualized network manager controls and intelligently routes and directs network traffic depending on network environments or traffic characteristics.

Policy-based management — SD-WAN supports quality of service (QoS) policy while applying organizational policies and protocols to determine where dynamic path selection can steer traffic according to different priority levels.

Multi-connection — As mentioned earlier, SD-WAN supports hybrid WAN. It can have multiple connections over different transports—MPLS, broadband Internet, LTE, etc. It also supports service chaining and can be chained together with other network services. 
These components work hand in hand to connect the end-users to their respective applications—anytime, anywhere, and from multiple devices. 
SD-WAN Deployment 
Beyond these components, SD-WAN can also be deployed via three main types of architecture, namely; 
As the name suggests, this architecture involves your SD-WAN hardware residing on-site through an SD-WAN box or router. Here, network operators have complete control and can directly access and manage the network and its hardware. 
While on-premise SD-WAN doesn't utilize cloud gateways, its connections are more secure for relaying sensitive information that can't be sent over the Internet. On-premise SD-WAN is ideal for organizations with in-house operations or applications not hosted on the cloud.
This framework sees an SD-WAN box connected to your cloud or a virtual gateway. This option improves network accessibility, multi-circuit load balancing while enhancing cloud app performance and integration.
Cloud-enabled SD-WANs are ideal for organizations with a majority of cloud-based services or applications. 
Cloud-Enabled with Backbone SD-WANs  
Here, your cloud-based infrastructure is supported such that the backbone is a level above such that an SD-WAN box connects your enterprise's network with the nearest point of presence (PoP) network. 
The traffic is switched or redirected to the provider's private network backbone from public to private connection. This enhances network reliability by reducing latency, jitter, and packet loss while increasing network performance. It also provides a more secure SD-WAN and load balancing.
Cloud-Enabled plus Backbone SD-WANs are ideal for organizations moving away from MPLS networks while predominantly running real-time network applications. Subject to the type of architecture used, SD-WAN establishes an overlay (encrypted tunnels between sites), equipping each site with an SD-WAN box. Once connected to the local networks, those boxes abstract and automatically establish tunnels transfer defined configuration, tasks, and traffic protocols or policies with each other or a point of presence (PoP).
What are the Benefits of SD-WAN?
SD-WAN can be beneficial in many ways for businesses. Here are some of the prime benefits your organization can enjoy after adopting SD-WAN technology:
Reduced costs and resource optimization
Used correctly, SD-WAN can reduce WAN transport and IT administrative costs. Unlike network bandwidths like MLPS which are expensive and slow provisioning, SD-WAN costs less and takes only days to implement. SD-WAN also lowers last-mile networking costs by routing traffic across any network transport type. 
Additionally, it's a more intelligent application-aware that eliminates the need for extra eyes to monitor bandwidth and networks. It also provides greater troubleshooting capabilities which can cut down on costs needed to bring in network technicians.
SD-WAN's policy-based routing feature means that it functions according to the business application priority and performance. It allows traffic to be optimally sent through the network according to the needs of the underlying application improving performance.
SD-WAN provides more agile networking by facilitating network abstraction which allows various transport mechanisms via WAN. SD-WAN also streamlines business initiatives by dynamically routing traffic, improving the end-user quality of experience, and bridges the applications and the end-users; enhancing business productivity.
Simplified network management
SD-WAN facilitates growth, integration, and scalability across multiple endpoints courtesy of centralization; be it branch, remote, or cloud connections.
SD-WAN eliminates the need for comprehensive monitoring by IT personnel with Zero-Touch Provisioning. With central configuration and push policy changes from a single user interface, changes are instantly applied across the entire WAN eliminating the need for manual updates to each device.
Improved digital capabilities
If you're on a digital transformation journey, SD-WAN can be an advantage. It provides unique opportunities by enabling the Internet to connect to Software-as-a-Service (SaaS) applications.
Increased Visibility and WAN availability
SD-WAN provides network operators with a holistic view of the network systems for easier management. Further, it provides redundancy by automatically rerouting network traffic around interruptions caused by heavy traffic and downtime. 
With application-aware policies, real-time access control, end-to-end segmentation, SD-WAN facilitates secured network traffic systems. Threat protection can be integrated and enforced across various endpoints.
What are the Limitations of SD-WAN?
Even with their exceptional functionality, SD-WANs are not perfect. Of course, they don't solve all business networking pain points. Some of the drawbacks are:
SD WANs require your IT team to build and maintain the system (DIY). Failure to do so will necessitate external assistance which can significantly increase costs.

It isn't entirely averse to slow performance. Sometimes networks may experience jitter and packet loss. 

SD-WAN forwarding tools don't support traditional WAN circuits. They offer Ethernet connections to interface with WAN and LAN.

Lack of capable SD-WAN vendors tends to meet business software-networking expectations.

SD-WAN lacks extensive support like earlier technologies like MLPS, given it's a developing technology.
Is SD-WAN Secure?
Fundamental to the growing SD-WAN market is the security of data transmitted across this network. Many different technologies are used and combined in these products, each with its own set of strengths and vulnerabilities.
SD-WANs are hybrid networks that combine multiple transport links such as the Internet, leased lines, and cellular connections into a single secure connection. SD-WANs allow enterprises to manage their network, improving performance and reducing costs more flexibly. 
At a base level, SD-WAN can increase your network security with increased WAN visibility, encrypted network traffic, network segmentation, its centralized management system, and overall optimized performance. Network segmentation also limits any breaches to your managed systems.
SD-WANs provide enterprises with increased speed and business agility by optimizing application performance across all available WAN links through a single conduit or end-to-end secure path between branch offices, data centers, and cloud gateways. SD-WANs can act as a failover for local Internet or SD-WAN services in an ISP outage. 
These platforms are easy to change and configure, allowing enterprises to quickly deploy new services such as:
SD-Branch (video conferencing) 

WAN/IPsec VPN 

SD-Secure (site-to-site VPN) 

SD-Disaster Recovery Site Management 

SD-Zero Touch Deployment

SD Voice over WAN (VoW) SDN technologies such as OpenFlow enable telemetry for network monitoring and SDN capabilities within the infrastructure.
Differences between SD-WAN and Other Networking solutions
We're often asked about the differences between SD-WAN and other networking solutions. To answer this question, we put SD-WAN head-to-head to comparison with standard networking technologies.
SD-WAN vs. MPLS 
Multiprotocol label switching is a network protocol that controls traffic flow between two locations. MPLS connections feature dedicated and private networks that use advanced routing protocols to send varying network traffic via different paths.
Compared to SD-WAN, MPLS has higher bandwidth costs and offers less protection from network vulnerabilities. On its end, SD-WAN tends to be less expensive, more secure, and provide higher performance.
Besides, SD-WAN offers better visibility, convenience, and enhanced performance. Another reason why it triumphs over MPLS is its flexibility. By modern dynamic networking standards, MPLS networks are often fixed connections with a rigidity that limits branch interconnectivity. 
MPLS also doesn't provide app recognition or bandwidth management for latency-sensitive applications. As a result, organizations abandoning ship to adopt SD-WAN.
SD-WAN vs. SDN
At first glance, SD-WAN and Software-Defined working (SDN) might seem interchangeable, but they are pretty distinct from one another.
SDN works to make networks scalable and flexible. SDN enables network administrators to define specific parameters that help make services faster and easier to manage, such as automatic routing.
Like SD-WAN, SDNs also incorporate a central control infrastructure that enables the administrator to control multiple devices from one single controller.
SDN has many similarities but also some key differences as well. For example, SDN is user-designed and mainly focuses on LAN or the service provider's network.
The main goal of SDN is to improve network performance by creating a virtual overlay on top of existing networks through decoupling the control plane from data planes across different devices. 
This allows speedier communications between endpoints while limiting the amount of necessary installed equipment in physical machines themselves. This may be good for enterprises, but it does not solve many of the SD-WAN technology problems.
SD-WAN vs. VPN
Right off the bat, SD-WAN is better than VPN. 
SD-WAN avoids problems with poor Internet Service Providers (ISPs) and Global Traffic Management (GTM).
While SD-WAN costs more than a traditional VPN for WAN connections, SD-WAN provides benefits such as improved application performance and increased availability. 
SD-WAN also avoids problems with VPN and poor ISP. SD-WAN works directly on top of the public Internet, avoiding a private MPLS network that costs more to maintain without providing any additional value. 
SD-WAN also includes all the standard features of a VPN, such as site-to-site VPN, Multipath Optimization (MPO), software-defined tunneling, and SD-WAN orchestration. SD-WAN can scale to support 10Gbps of throughput per SD-WAN appliance over a single WAN link or multiple links with automatic load balancing.
VPN solutions are a good start for small to medium enterprises that only need to connect a few sites. However, SD-WAN is the way to go for organizations banking on scalability, performance, reliability, and operational agility.
SD-WAN as a Service
SD-WAN as a service is taking it from the context of a cloud SD-WAN vendor offering and making it available as a service. 
In other words, SD-WAN as a service (DaaS) takes SD-WAN technology that is currently deployed on-site, typically through routers and appliances, and moves it to the cloud. This means that instead of buying your SD-WAN hardware, you pay a monthly subscription for an SD-WAN service provider to manage traffic over their networks.
The advantages of SD-WAN as a Service are primarily cost savings and simplicity. SD-WAN devices can be pricey to buy outright, while many companies still have legacy networking gear that SD-WAN technology would replace. SD-WAN as a service allows these companies to gradually adopt SD-WAN in a way that doesn't require the upfront costs of buying new SD-WAN hardware.
SD-WAN as a service is a more straightforward management solution than other SD-WAN solutions because it has fewer moving parts and doesn't require knowledge of SD-WAN, security, or routing protocols. SD-WAN as a service is typically managed by the SD-WAN company itself or an SD-WAN service integrator.
Who are the Top SD-WAN Vendors?
As SD-WAN becomes a central technology for companies looking to streamline and simplify their WAN infrastructure, it's no surprise that demand for newer technologies is growing. 
As such, there has been a surge of new vendors offering SD-WAN solutions. The question now is, which of these companies are leading the pack?
To help you out, we took the time to analyze several different SD-WAN companies and based on various metrics. Below is an overview of our Top SD-WAN vendors
Fortinet – Fortinet prides itself in being a SASE security vendor that offers cost-effective SD-WAN with dedicated edge hardware.

Cato Networks – a global leader in SD-WAN 3.0 CATO offers traffic-engineered private IP backbone with SD-WAN and SASE cloud-based security across DIY, Co-Managed, and fully managed services.

Versa – Versa delivers simple (Titan) and complex (Classic) SD-WAN solutions coupled with comprehensive SASE security and support for cloud platforms like AWS, Azure, and Google Cloud.

Silver Peak – Silver Peak supports WAN acceleration, full integration into AWS, and Azure provisioning of their Edge Connect product with Broadband improvement features and complex network capabilities.

Palo Alto – Another SASE security vendor, Palo Alto offers extensive managed SD-WAN and security services.

Oracle – Oracle offers simple to use SD-WAN built on Talari's SD-WAN product. It offers strong integration across Cloud vendors with SASE security offered via their partnership with Checkpoint.

Cisco SD Wan – Cisco SD-WAN is highly configurable and designed to support large enterprises with complex network requirements.

Citrix SD-WAN Citrix is a networking market leader. Citrix delivers fantastic SD-WAN experiences for companies through the cloud ranging from multi-cloud integration, QoS prioritization, failover procedures, WAN optimization across Citrix Virtual Apps with SASE security, and more. Its SD-WAN services are also available as an appliance or cloud-resident virtual appliance in-house deployment.

Velocloud SD Wan- VMware's SD-WAN technology to scale and grow enterprises. It provides a diverse SD-WAN depending on the needs of your business across global branches and connections. It also enables optimization via access to cloud applications and data centers.
What Makes a Good SD-WAN Vendor?
With the market saturated with numerous SD-WAN service providers, it can be hard to identify a worthwhile SD-WAN provider to partner with.
After all, not all providers offer the same level of services. Some lack experience, technologies, or offer mediocre services. Ideally, a great SD-WAN provider should:
Be true to their scope and capabilities. 

Have reputable reviews and past client testimonials

Listen and seek to understand your organization—this includes customers, users, business objectives, challenges, IT function, and requirements before proposing a suitable SD-WAN solution for you.

Be an industry leader with a specialty in the WAN market. Specialists can better identify your pain points and anticipate future issues courtesy of their experience.

Be flexible and adapt to meet your current and future organization needs and preferences for your SD-WAN project.

Deliver more value in the long run as a strategic business partner.
The Future of SD-WAN
SD-WAN is the future of networking, and its presence has exploded in the past few years. At this point, nearly every significant networking hardware supplier has a solution out there for disaggregated wide-area networks that can simultaneously leverage both MPLS technology and an Internet connection—leveraging all of the technologies that are currently available to us today.
SD-WAN technology represents a new commercial opportunity for carriers, one that's closely tied to the emerging SDN movement. SD-WAN is a logical extension of SDN technology. It provides enterprises with an improved way to manage their existing infrastructure while capitalizing on new revenue streams through network service automation, SD-WAN software management, and Carrier Ethernet services.
Although SD-WAN's commercial promise has yet to be realized, SD-WAN technology is beginning to gain widespread awareness within the enterprise market. SDN technology is also making SD-WAN an increasingly familiar term in carrier boardrooms.
SD-WAN isn't just valuable because it gives an enterprise the ability to cut costs by ditching their expensive MPLS lines and supporting a mostly hybrid WAN architecture with minimal added features. It also allows enterprises to build genuinely agile infrastructure instead of being married to expensive hardware they're forced into renting to use some of the most basic WAN functionality.
In itself, SD-WAN doesn't have any vast shortcomings, but where it's going does present a few potential problems. The first is that future SD-WAN products likely won't fully support current MPLS features – at least not in the way most providers currently use them. 
Besides, with the entry of Secure Access Service Edge (SASE), a complementary next-generation networking and security solution based on SD-WAN functionality, SD-WAN's future looks bright as does the future for organizations who leverage its capabilities! 
Conclusion
By now, you have a good idea about what SD-WAN is and what it can do for your business and customers. In the current business landscape, organizations need to ensure that every solution they propose and every dollar they spend brings value to their organization. 
SD-WAN has the potential to bring value and to scale your business by taking your networking to the next level. As enterprises embrace digital transformation looking to expand and realize agility, SD-WAN has to become a top tool for many.
Whether you're a small, medium, large, or start-up organization, SD-WAN is a good networking support technology, addressing your business needs no matter where you are. However, for all its benefits, it's imperative for IT teams to take inventory of their network infrastructure before transitioning to SD-WAN.