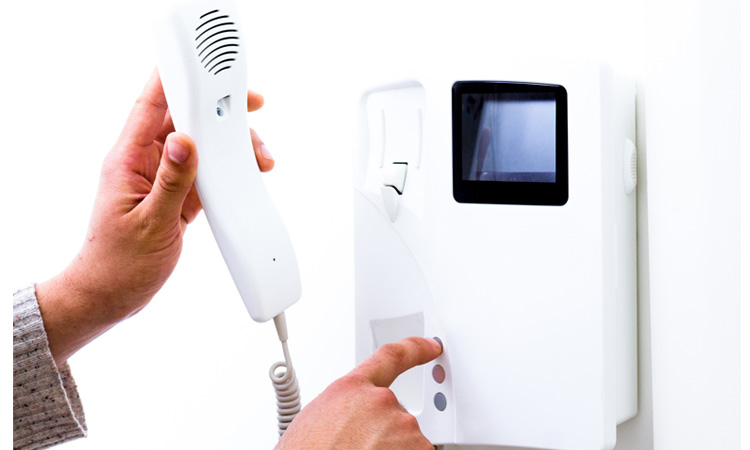 With the invention of cell phones, digital telephone systems, and other communication devices, the use of intercom systems for businesses has declined. But the truth is that there are still multiple applications where intercom systems are the best fit for the job. Modern business intercom systems serve many important purposes. 
What is an Intercom System for Business? 
An intercom system for business is simply a device that allows two people to speak or communicate with each other. Intercom systems have been widely used in office settings for years. In the past, these systems were typically used for office tenants to communicate with each other from different rooms. Intercom systems may still serve that same purpose but through modern advances in technology, have much more to offer.
Wireless Intercom System for Business 
A commercial intercom system can either be wired or wireless. This refers to how your system is connected between the base unit at your building's entrance and the substations which are installed throughout the building. In the past, wireless wasn't an option. Now, with the use of smartphones, your intercom system can connect wirelessly and be used as a substation. This wireless technology allows tenants to video chat with guests and visitors alike. 
Wireless intercom systems are much less expensive and easier to install than a wired system. One drawback with a wireless system is that of security. Communication can be easily eavesdropped on when another device is tuned in to the same frequency. Long-range connections aren't as reliable with a wireless system and finding a sustainable power supply isn't always easy either. 
Wired Intercom System 
Wired intercom systems are those where the outdoor unit is hard-wired to the indoor device in each business unit or apartment in a building. Any system that needs cabling and wires to function is going to be harder to install, repair, and maintain. Not to mention that costly labor for installment will be involved.
Hard-wired intercom systems are definitely your choice for dependable security. Wireless systems have many vulnerabilities that have the potential to affect the reliability and functionality of your business. 
Intercom System for Office 
When searching for the intercom system for your office, remember that there are three common types of intercom systems to choose from. Not all intercom systems are alike or serve the exact same purpose. It's important to know your options to ensure selecting the most accurate fit for your company. The three main types of Intercom systems for businesses are as follows: 
Office Intercom for internal use 
Internal use intercom systems are designed to make it easy to communicate instantly with your fellow employees in your office. Phone systems can get the job done but intercom systems offer a different way to communicate that is quick and reliable. Employees can respond instantly with the push of a button, even if they're busy. 
Phone systems don't typically allow for announcements that can be heard office-wide. If your business needs to send out a quick announcement, press a button and your message can reach the entire office. This is also extremely convenient if you have an emergency and need to get a message to everyone for safety concerns. Even if an alarm goes off, staff may assume it's only a drill or false alarm. With an internal use intercom system, you can instantly verify the validity of the alarm. 
A building access system with door release 
When using a building access system with a door release, tenants enter their access code, key code, PIN, or another form of identification. If their credentials match up with what's in the system, access is granted and the door unlocks. Visitors are also able to request access to entry. Once properly verified, the staff or security can have the door opened for them. 
Commercial video intercom systems 
A video intercom system allows tenants to video chat with visitors and guests before giving them access to your building. These systems are used more often today than your standard overhead intercom system because smartphones and email make internal communication so simple.
Your commercial video intercom system will offer one-way or two-way video. A system with a one-way video means that the tenant can see the visitor during a video chat, but the visitor can't see the tenant. So obviously, with a two-way video intercom system, both visitors and tenants can see and talk with each other. 
How to choose a business intercom system for your business
When choosing a commercial intercom system for your business, there are some things you should consider as well as features to look for. Look for these components to ensure you choose the best system for your needs.
1. How many people will use the intercom system? 
The size of your facility should be taken into consideration when choosing an intercom system. Some work best for small businesses and others fit the needs better for larger structures. It's also important to take into account how user-friendly the system is and if it displays the information clearly. A system should be easy for both visitors and occupants to use.
2. Built-in Access Control 
An intercom system with built-in access control makes it simple and easy to integrate employees with your operating system. Once a downloaded list of employees has been synced with the intercom, each employee will automatically receive building access credentials. Because the systems operate on the cloud, when there's a new employee or when an employee leaves, the system automatically adjusts accordingly.
3. Smartphones app feature 
In the old days, intercom substations had to be individually installed which could be costly and inconvenient. Fortunately, now you can use your smartphones as substations when using a door intercom system for your business. Be certain to look for a smartphone-enabled intercom service that allows you to open doors or gates from your mobile app. 
4. Do you require video capabilities? 
Wired video intercom systems deliver reliable and consistent images and audio, free from interference. A video intercom is an excellent option if you want more security, convenience, and control. 
Extra Optional Features
Many intercom systems out there today come with some extra options that are really impressive. These features enhance not only security but convenience and style as well. 
Panic alarm switches 

Hands-free capability 

Multiple language support 

Network connectivity 

Customizable design of screens and layouts 

Email function for private messages between tenants and guests 

Multiple programming options 
Intercom Systems for Business Conclusion 
If you have questions regarding intercom business systems or need help selecting the best voice and data services for your company, give Abadi Group a call to get your free quote. We've been a family-owned business since 1993 and we take your satisfaction very seriously. We have access to exclusive wholesale pricing and promotions otherwise unavailable to you. Quickly find the best combination of rates and services today!