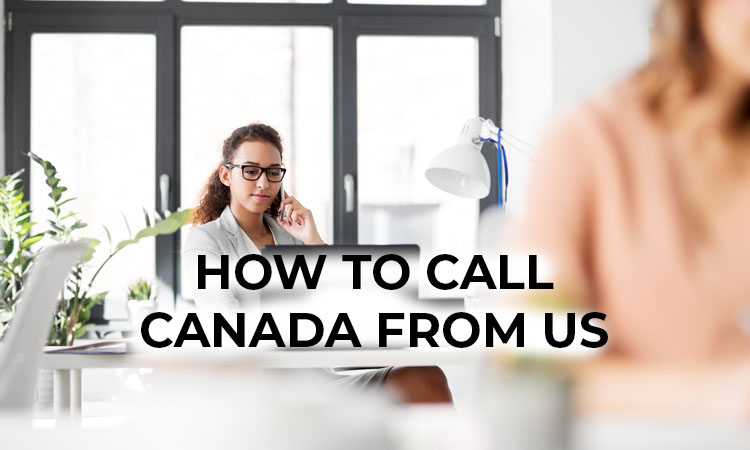 Sometimes it can be intimidating to know how to call Canada from the U.S. But in all reality, it's a surprisingly simple process. Once you understand the steps, you'll realize that making a call to Canada isn't complicated and shouldn't be fretted over. Calling other international countries requires entering a country code but isn't required when dialing Canada.
How to call Canada 
Calling Canada is no problem as long as you have the area code and phone number of the place you desire to reach. Follow these few steps to easily make your call: 
Start by dialing the number

"1".

This is the Canadian country code for people calling from the United States. 

Next, enter the Canadian area code for the area you are dialing. Be sure to know the area code ahead of time. 

To finish, dial the remaining 7 digits of the phone number that you want to reach. This will connect you to the phone you are trying to connect with. 
How to Call a Cellphone in Canada from the US? 
Calling cell phones throughout Canada works nearly the same as calling landlines and is easy to do. Keep in mind that it won't make any difference which cell phone provider the number you are calling has. The steps are nearly identical. 
Start by making sure your mobile carrier plan allows you to make calls to Canada. 

Dial "1" before the area code 

Enter the area code of the region you want to reach 

Finish by dialing the 7 digit phone number that you want to call
Canadian Area Codes 
When making calls to Canada you need to use the correct area code for the particular province or region you are trying to connect with. Here is a list of some of the most important area codes in Canada. 
Location Area Code 
Alberta (Southern) 403 
British Columbia 250, 604, 778
Quebec City 418 
Edmonton 780 
Thunder Bay 807 
New Brunswick 506 
Toronto (Metro) 416, 647 
Sherbrooke 819 
Prince Edward Island 902 
Toronto (Greater) 289, 905 
Manitoba 204 
Vancouver 778 
Ottawa 613 
Nova Scotia 902 
Yukon & NW 
Territories 867 
Newfoundland 709 
Quebec 450, 819 
Montreal 514 
North Bay 705 
Alberta (Northern) 780 
Saskatchewan 306 
London 519 
Is Canada International Calling? Calling Canada cost
When making a call to Canada from the U.S. through your cell phone or landline, traditional phone providers like Verizon and AT&T will typically offer rates that average $0.49 per minute. Customers also have the option to opt into their provider's international calling plan which can lower the cost to $0.09 per minute. Buying into this international plan will raise your monthly bill by roughly $5-$15 per month. 
How to reduce costs when calling Canada 
If you have family across the border or you make frequent business calls to Canada, there are cheaper options to explore. The best option is to consider Wi-Fi apps that allow you to make calls without any additional charges. This will only be a viable option for people with internet access. Using cellular data or Wi-Fi, you will be able to make unlimited voice and
video calls, send unlimited texts, and so much more. It's important to understand that the person or business you are contacting in Canada needs to use the same app in order to receive these rates and benefits. When using these apps, you won't have to pay international rates for any calls to Canada or worry about using the Canada country code. There are several Wi-Fi telephone apps that are widely used across the globe. Some of these include: 
BOSS Revolution 

Facetime 

Line 

WhatsApp 
The Nextiva App offers phone solutions for individuals and companies. The Nextiva VoiP service is a full-featured business calling solution that works well for call centers as well as any business with a large number of employees. It includes such advanced features as call routing, Group controls, remote dialing, and more. Another perk is that all of this can be controlled from your mobile device using the app. There really is no need to mess with overpriced business calling solutions. With Nextive, you can streamline all your telecom needs into one simple app at an affordable price. 
Conclusion on How to Call Canada from the US
If you have questions about international calling or any other telecommunication services, contact Abadi Group. We know you have options when you select the firms you trust for voice and data services. We take your business and your satisfaction very seriously. In addition to being VoIP providers such as Zoom Voice, we also provide hosted telecom services including hosted PBX and business phone numbers throughout the states of New Jersey and New York. You can be certain we will do what we say and we will do it right. Contact us to get your free quote today.